Dear Members of the De La Salle Community,
As we prepare for our first day of school tomorrow, we want to provide you with a couple of important updates.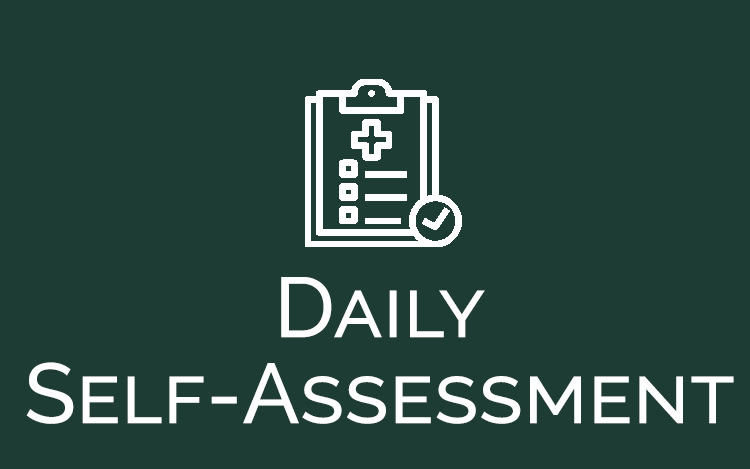 Following the directive of public health authorities, anyone coming to campus with the intent of entering any of our buildings must complete an online COVID-19 Self-Assessment. The purpose of this exercise to ensure that anyone experiencing symptoms of COVID-19 does not travel to campus. It is also a means of ensuring we have accurate contact tracing records should we be required to provide them to public health.
Students and staff must complete the self-assessment daily, along with any parents or visitors coming to campus with a pre-arranged appointment. Parents dropping-off or picking-up their children do not need to complete a self-assessment. The Main office will send a link to a parent/visitor self-assessment form in advance of any appointments.
All self-assessments should be completed before leaving home to come to campus. Please note that the strictest privacy will be maintained in the management of these records.

The Student Self-Assessment can be accessed by clicking the button below. Please fill out the required fields and complete the Government of Ontario's COVID-19 Self-Assessment. Please follow the instructions from the tool and indicate your result on the Student Self-Assessment form.
Arrival and Departure from Campus
We want to offer families a reminder of pick-up and drop-off protocols before our first day of classes tomorrow. When coming to campus, please prepare for a quick and timely drop-off to help mitigate any traffic backlog. We sincerely appreciate your patience and wish you a safe trip to campus.
Drop-Off
Students being driven to campus in a vehicle should enter via Farnham Avenue, at which point a staff member will direct them to a drop-off point based on the Grade of the students arriving.


Junior School


Grades 5 and 6
Entry and exit through the Farnham doors, located on the north side of the Main Building.



Grades 7 and 8
Entry and exit through the Woodlawn doors, located on the east side of the Main Building.



You will be directed by staff to the school's east side, where you will find three newly created lanes.

The two right lanes are for Junior School Drop Off. The lanes are extra-wide to allow students to exit their vehicles safely.

Students are asked to exit through the right side of the vehicle and carefully make their way to the designated throughway to their Grade's doors.



Senior School



Grades 9 and 10

Entry and Exit through the Auditorium, Music Hall or Arena.




Grades 11 and 12
Entry and Exit through the Auditorium, Music Hall or Arena.



If you are dropping off students between Grade 9 and 12, you'll be directed to drive around the Senior School Loop and stop in front of the Auditorium.

Students are asked to exit via the right side of the vehicle at the curbside, where a staff member will meet them.

When exiting the campus, parents dropping off Senior School students may bypass the Junior School Loop, using the far left lane on the school's east side.



Parents or guardians dropping their child off must remain in their vehicles at all times.


There will be sufficient staff supervision directing students and ensuring their safety as they exit vehicles and enter the Main Building.


Upon entering the school, all students and staff must wear a mask at all times, while indoors. For more information, please visit A New Leaf and review our Health and Safety Guidelines.


Following drop-off, all vehicles should promptly exit the campus via the Woodlawn Gates on the east side of campus.



Please do not try and pass other vehicles. We will endeavour to move everyone through as expediently as possible.

Pick-Up
Parents picking up their child should follow the same procedures for drop-off and will be directed to their designated pick-up point by our staff members.
Twitter Relaunch
We are excited to announce the relaunch of our College Twitter account. We will be using the platform to provide regular updates on what is happening on campus. It will also serve as a tool for sharing critical community-wide notices, particularly in the event of our usual platforms not being accessible.
Those members of our community who use Twitter are encouraged to follow us at: @DLSOaklands or by clicking the Twitter icon below.
We look forward to seeing all of our students as they return to campus!
Sincerely,
Mr. Lundy
Principal
131 Farnham Ave., Toronto, M4V 1H7 | delasalle.ca | 416.969.8771
If you wish to unsubscribe to this email list, please click here .