Class of 2023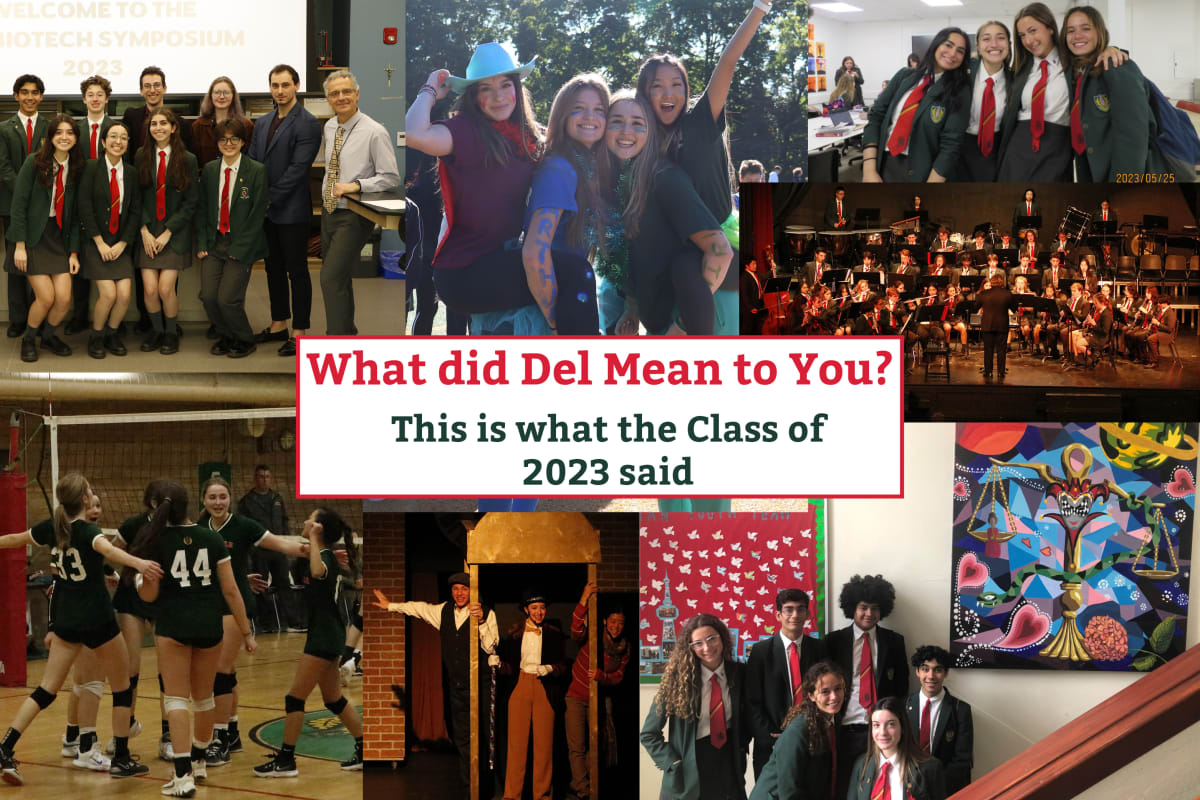 The Class of 2023 was asked in the final week to reflect back on what attending Del meant to them. These are the submissions we received:
Heather Ajoy
Toronto Metropolitan University - Biomedical Sciences
Words cannot describe how grateful I am for the teachers at Del. Their kindness and passion for their subjects never cease to amaze me. Even during my last year at this school, they continued to mentor and encourage me at every turn. From their constant words of encouragement, interactive lessons, to their unforgettable jokes, just their presence made my high school experience all the more memorable. My personal development has been greatly influenced by the teachers at this institution, and without them, I would not be the same person I am now.
So no matter what happens in the years to come, I will always treasure the important lessons that my teachers have taught me and will be forever indebted.
Diego Bellissimo
York University- Education
My experience at De La Salle was something I can't and won't forget. I met some incredible people who helped me grow into a better person and have had a huge impact on who I am today. The school provided me with great role models that make me want to strive for greatness. Plus, I have been in some great communities that have taught me so much.
I came to Del in grade 9 alone but the staff and students did everything they could to make me feel welcomed and supported. I was a part of many extracurriculars in my short time here but in every one of them, I was welcomed and appreciated. I'm so grateful that in my final year, I was given the opportunity to make people feel the same way I did through cadets, theatre, community time, and coffee house. I learned how to be a good leader, student, and friend. The values of temperance, responsibility, leadership, and adaptability are things I was taught here. These are things I can't and won't forget when I leave Del and I am so grateful for that. Whenever I struggled in a class or went through a rough patch in life, the teachers and guidance counsellors were there for me. For 5 hours every week I'd be in the math office and Mr. Kulenkamp, Salem, Sourial, or Mrs. Sciortino were always there to help. Ms. Smith was by my side for hours to perfect my lines in the play. All the cadet officers did their very best to give me the full cadet experience for the short time I was in the corps, and all the cadets welcomed me and treated me like family ensuring I had the best experience possible.
My experience at Del has inspired me to pursue a career in teaching myself and be able to inspire students just like I was inspired during my time there.
Nicola Caravaggio
Fashion Institute of Technology – Fashion Design
I am beyond fortunate and forever grateful for the past 4 years I have spent at Del La Salle. My time here has taught me more than any textbook ever could. I believe that the passion that each and every teacher carry towards the course they teach, and the determination they have to see you succeed is unlike anything that is seen at any other school. I will be eternally grateful to have been part of a school that offers such a tremendous amount of support to see you succeed. I will also never forget the friends I have made and the memories we've shared through our time at Del. This school will always be a part of me and hold a special place in my heart.
Hyelynn Chung
University of Toronto - Engineering Science (Co-op)
It's hard to describe the past six years within a paragraph, but it is easy for me to say that Del was always my first priority. From academics to sports, clubs, and friends, Del took up the majority of my time. Although I have been to 5 other schools before Del, I am proud to say that Del was my last. I stuck with it because I immediately felt like I was part of a community that truly cared for me. Every day, I woke up excited to come to school and create more everlasting memories. I met teachers that truly inspired me to become a better student and even a better person. The last few days of grade 12 have made me realize how special every moment was at Del. It also made me realize how much the Del community cares for the graduating class. The most memorable experience I had at Del was winning the CISAA championship and coming 2nd at OFSAA for the Senior Girls' Volleyball team. All the days of being sleep deprived because of our 7 am practices for the past six years finally paid off. The moment the ball dropped at the last game, at the last set, and at the last point, the realization hit: I will never be a part of a team like this again. Now that I am graduating, I feel the "last point" approaching. I will never find a community like this again.
Reese Clinton
Queens University - Life Sciences and Biochemistry
Del has always been so much more than just a school to me. I believe that what makes Del so unique is the people that I have been lucky to spend the last six years of my life with. The teachers here are truly incredible. They take the time to get to know each student, making everyone feel respected and an integral part of every class. I have never before met people so passionate about their chosen subjects, a characteristic that shines through in the enthusiasm and zeal they bring to every lesson and lab. Another aspect of Del that has been so special to me is the athletic community. I have participated in a team in every sports season available to me and I could not have made a better choice. Through these teams I have made many friendships and connections that will last a lifetime. The sense of community and team spirit that Del teams emanate is unmatched. Nothing can quite replicate the feeling of playing soccer on the home field with an entire school cheering from the packed stands. Wearing the Del logo, whether in a form of a hockey jersey, a soccer uniform, or a cross-country singlet, has been an honour. I hope that wherever I go I next I find a community even half as welcoming and empowering as I found here at Del.
Matthew D'Ambrosi
York University - Schulich School of Business (BBA)
Attending Del over the past 4 years has been a unique and unforgettable experience! During my time at Del, I have been able to meet some of my closest friends and take part in many clubs and classes that have helped shape me into the person I am today. In particular, my participation in the DECA Club, which led to competing in DECA Provincials, along with going on the Italy trip to complete a Grade 12 English credit, have become some of my fondest memories of high school. Going to Del has not only allowed me to receive a top-of-the-line education and develop a strong work ethic but has also enabled me to partake in unique experiences and form lifelong friendships. I am truly grateful for my time at Del, where I "entered to learn", and became equipped with the knowledge and skills necessary in order to "leave to serve". I am excited about the future, and I look forward to opportunities where I can give back to my community and use my talents to make a positive impact.
Maya Dorantes
Queen's University - Life Sciences and Biochemistry
Having been a student at Del since Grade 5, I have had the privilege of building friendships that I am certain will endure a lifetime. My time at Del has instilled within me a profound appreciation of what it means to be a student at Del. Each of the eight years spent here holds a special place in my heart, as they have not only gifted me cherished memories but also played a transformative role in shaping the person I am today.
During my journey at Del, I eagerly participated in various extracurricular activities, immersing myself in diverse pursuits such as the Stock Market Club in Grade 11, HOSA, the Lasallian Youth Team, and much more. Through these engagements, I had the opportunity to pursue my diverse interests, broaden my intellectual horizons, and become an integral part of a community that I hold in high regard. The incredible years spent in Del's Junior School inspired me to take on leadership roles, serving as a Brother Arthur House Leader and a Peer Tutor. These experiences allowed me to give back to the Del Community, which has given me so much.
I am immensely grateful for the remarkable friendships forged during my time at Del. These friends have not only provided unwavering support but have also been constant companions throughout my journey. Additionally, I extend my gratitude to the exceptional teachers who have guided me in my academic endeavours at Del. Their guidance and mentorship have provided me with a strong foundation as I prepare to embark on my university studies. I am confident that I will thrive in this new chapter of my life, equipped with the knowledge and preparation bestowed upon me during my eight-year tenure at Del.
In adhering to the school's motto, "Enter to learn," I can assert that my time at Del has been marked by significant personal growth. From mastering quadratic equations to understanding complex concepts like glycolysis and philosophy, and even learning practical skills such as stock trading, I can confidently state that I am well-prepared to face the challenges that lie ahead. As I now embrace the second part of the school's motto, "Leave to serve," my aspirations for the future are rooted in serving my community and applying the invaluable lessons learned at Del throughout my university years.
In conclusion, my journey at Del has been nothing short of transformative. The friendships, knowledge, and experiences I have gained during my time here have provided me with a strong sense of purpose and prepared me for the next phase of my life. As I step into the future, I carry with me the gratitude, wisdom, and passion instilled within me by the Del community. I am excited to embark on this new chapter, ready to make a positive impact in the world, and forever grateful for the extraordinary years I spent at Del.
Justin Kopman
Brock University - Bachelor of Science Game Programming
What Del has meant to me is a lot of hard work, teamwork, commitment, and stress. Although it has not been easy, I'm beyond happy with the experiences I've had here, and I know it has well prepared me for the road ahead. Through my peers, teachers, classes, the things I liked, and especially the things I didn't, Del helped me grow into the person I am today. It was a great experience and although I'm sad it's over, I am overly excited about what lies ahead.
Timothy Joshua (TJ) Lee
University of Ottawa - Business Technology Management (BCom-w/Honours)
DEL has provided me with the support needed for the first steps of going into a post-secondary education. DEL has taught me many skills needed for the future (i.e., time management, social, and writing), and has allowed me to do the best I can. During my time at DEL, I have participated in many clubs and a sport, which made me feel like I was part of a close-knit community. The most impactful club that really helped me was the retreat program where I had the opportunity to become a retreat commissioner. Taking on this leadership program has been the greatest pleasure of my life and I would never take it back. Another meaningful event at DEL was when I was part of the music program. Since I came to DEL in Grade 6 to when I graduated, this program helped relieve some stress off my normal school life with something I truly enjoyed, and I was able to participate in fun activities such as the Toronto Santa Claus Parade, and getting Gold in Halifax during the band trip. Finally, the support from the staff and grade really helped me to come out of my introverted shell, and molded me to the person I am today. Overall, DEL really helped me to develop the skills needed for me to pursue my passions, and I would not take anything back. Thanks DEL for the last seven years, and everything!!
Sofia Marino
Queen's University - Life Sciences and Biochemistry
For the past 4 years, De La Salle has shaped me into who I am today. Filled with ups and downs, both the accomplishments and challenges have led me to be a more resilient and mature individual ready to go off into the world and become my own person. Del has always been a place that has encouraged me to bring my all and not let what others think get in the way. On days of celebration and of struggle, I have always felt there was someone there, both staff and peers, to cheer me on and support me. I am eternally grateful to Del for leading me to friends I know I will have for the rest of my life and for providing me with numerous academic opportunities that have made me grow intellectually, socially and spiritually.
I have always seen the teachers at Del as great role models and as some of my biggest supporters. I would like to specifically thank a few teachers that have truly made a difference each day at Del. To Mr. Vlahovic, who taught me that it's okay to admit that I don't know something, challenged my independence and taught me the value in showing my vulnerabilities. To Mr. Sourial, who taught me to not be ashamed of my passions and always give my all. To Ms. Richards, who always was there to support me in both my ups and downs and taught me to stay confident in who I was no matter what others said.
Going off into the world, I know my experience here at Del has prepared me for reality and has allowed me to become more confident in myself and my abilities. Thanks Del for everything and I hope to return and give back to the community that has taught me more than I could ever imagine.
John Henry McFadden
University Of Alberta – Arts
Del has been my life for the past 6 years. I have created long-lasting friendships both in and out of school and have increased my knowledge. I think the community of Del has really been the most meaningful thing to me. The many friendships I have made have driven me through my middle school and high school career. Everyone has always been so open and warm, to me, and because of that these have been some of my favorite moments. Thank you Del for all you have done for me and I wish all my teachers and friends the best.
Liesel Munar
University of Toronto - Arts and Science, Humanities
It's currently 11:47 pm as I'm writing this response… the day before the deadline. I only have five more days of going to DEL, and I'm still procrastinating but with good reason. I'm only doing this now because it wasn't until tonight at Karate training that I realized how much I was truly going to miss this place. I couldn't focus, I had no energy, and no amount of training was going to get me out of the sadness I was feeling knowing that we had just finished our last day of classes the day before.
DEL has really been my second family over the past 7 years. Not only have I grown, but the people around me and the school itself have also changed drastically. I've learned so much during my time here and the memories I've made with the amazing people I've met will stay with me forever.
I'm going to miss everything and everyone. From the 7am meetings and practices to the numerous tests and assignments due in one day, these all helped to shape my DEL life. I'll also miss all the trips, retreats, and fun times spent with my friends both in and out of the classroom. I'll be sure to take all that I've learned from all my teachers and use it to better serve the world once I graduate. DEL is the most special place, and it hurts to leave, but I find comfort in knowing that this school has prepared me for what's to come in my future. Thank you, DEL, for everything :)
Brian Nadanapatham
York University - Lassonde School of Engineering for Computer Science
De La Salle has impacted my life in the best way possible. It served as a place for making lifelong memories and long-lasting friendships, all overshadowing anything I've done in the past. As a shy grade 9 student coming to Del, I was afraid of what I was getting myself into, but I was immediately enlightened by the welcoming and fun community full of students who I still look up to today. This encouraged me to step out of my comfort zone and do things I never would have done before, such as surging my confidence and becoming a House Leader to help the younger generation of Del students. The most fascinating thing that I got to experience at Del were the many teachers who excelled at their chosen subjects while being a parental figure to us all, especially Mr. Sourial with his uplifting attitude combined with his passion and enthusiasm to teach. Del has not only been a high school to me but a second home that I will always cherish in my heart.
Itohan Odigie
Wilfrid Laurier University - Computer Science and Business Double Degree
De La Salle holds a special place in my heart, and I will forever be indebted to it. Words cannot adequately express the immense impact the De La Salle community has had on me and the invaluable lessons it has taught me. When I tragically lost my mother just before starting ninth grade, De La Salle stepped in and filled that void with their boundless love, kindness, and unwavering support. They have been there for me right from the beginning, molding me into the person I am today. My time at Del has been filled with cherished friendships, meaningful connections, unforgettable memories, active participation in various clubs and sports, and the opportunity to give back to a community that genuinely cares for one another. In the classrooms led by uplifting and inspiring teachers, I have not only gained essential academic knowledge but also important life lessons.
Each year at Del has been a transformative journey. While it hasn't always been easy, it has undoubtedly been fruitful and invaluable. To me, Del is more than just a school; it is a home away from home. It has nurtured and strengthened me in numerous ways and equiped me with the necessay tools to succeed in the next phase of my life.
I may not truly grasp how pivotal and important Del has been now, but when I leave to serve, I believe I will look back and always say with a greatful heart, "Thank you, De La Salle community."
Madelyn Orrico
Queens University- Life Sciences and Biochemistry
When I look back at the student I was when I arrived at Del in grade 7, I am astonished at how much I've grown as a person. This was possible due to the community Del has provided for me, that I have fully immersed myself in for the past 6 years. Between the sports teams I have joined, the peers I have chosen to surround myself with, and the teachers I've had the honour of being taught by, Del has not only provided me with a second home, but a second family.
Throughout my time here, I have constantly been reminded of my academic potential. My teachers have encouraged me, comforted me, and have pushed me to reach and accomplish my goals. I am proud to say I feel confident and ready for my university education, and I owe this all to Del.
If I could re-do these years over again, I would do it in a heartbeat. I will miss everything this school had to offer, but am so grateful for all the opportunities and memories it has given me.
Olivia Piccolo
University of Waterloo - Undergraduate Degree in Legal Studies in preparation for Law School
Simply put, Del meant (and still means) family to me. I have met some of the most genuine and talented friends, coaches, and educators at this school. Everyone belonging to this community resembles the essence of "going the extra mile" to help each other. Whether that means teachers accommodating assessments for co-curricular activities, checking out the Heritage House to replace a missing tie, or swinging by Student Services to be consoled about a tough math test, everyone is here for each other. This is what it means to be a family.
Tatiana Rountes
Queens University- Life Sciences and Biochemistry
Coming to Del was a big decision I had to make upon entering grade nine, and one that I was not completely certain about at the time. After my first week at Del I knew that I had made the right decision and have never regretted my decision once. As someone who cares a lot about school, I found it really encouraging to be surrounded by my peers who also cared a lot about academics, as well as all of the extracurricular activities Del had to offer. Through different clubs and teams like HOSA, band, and D2 senior girls soccer, I found different communities in which I developed meaning friendships and memories. My older sister came to Del before I did, and as an outsider looking in, there had always seemed to be something special about Del that you couldn't help but want to be apart of. After my four years at Del, I think that special thing is the community, traditions, and school spirit that I consider myself, and anyone who gets the chance to experience it, lucky to be part of.
Michael Virdo
University of Toronto Mississauga - Life Science
After attending Del for 4 years it has come to mean a whole lot to me. Its welcoming community helped me to build great friendships with amazing people and create lifelong memories that I will always look back on and appreciate. Its teachers helped me not only to find what I enjoy and want to pursue later in my life but inspired me to work hard in not just school but in anything that I want to achieve. I'm really happy that I came to Del and was able to experience all it had to offer.
Miriya Werner
Queen's University – Commerce
Del is who I am. I credit the person I am today to this excellent school, which has led me to become the best version of myself. It has taught me to be diligent, pushed me to be outgoing, and inspired me to serve others. I think of Del as nothing short of a second home; a place where I have met lifelong friends and learned so many valuable lessons that will stay with me forever. I am so grateful to have had the privilege to be so involved in such a tight knit community—a community so unique, and so dense with exceptional students with bright futures. I will forever cherish the years I spent in this special community, and Del will always hold a special place in my heart.