Class of 2022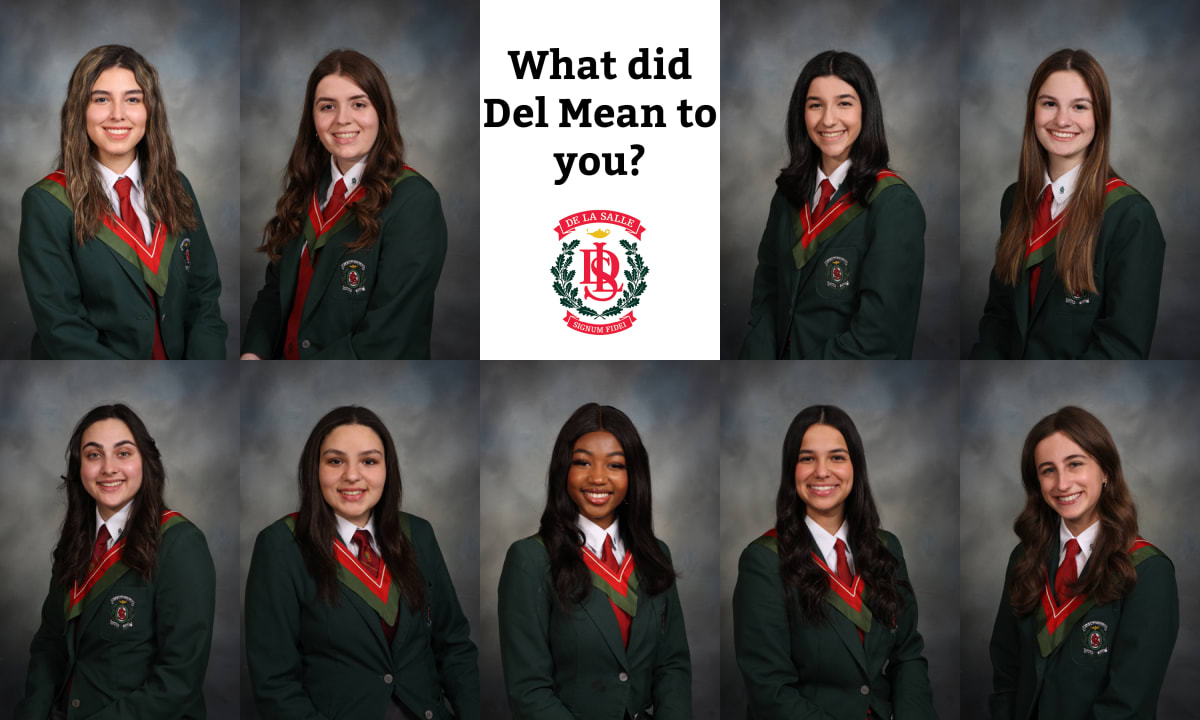 The Class of 2022 was asked in the final week to reflect back on what attending Del meant to them. These are the submissions we received:
Maria Acosta-
Plan after Del: After Del I will be going to the University of Toronto with Trinity College for Life Science.
De La Salle has given me a place to build lasting friendships in a community that genuinely cares for one another. Throughout my time at Del, I did many clubs and a few sports. Coming to the school in grade 9 was a big change but thanks to Link Crew and house leaders I was able to feel welcome, both of which I was apart in grade 11 and 12 to give back to the community. The most inspiring thing that I got at Del was the environment where I felt encouraged to learn in. Every teacher is supportive, and each student tries their best in each course, which helped me change my perspective of studying to being something important rather than a hindrance.
Jenna Payette-
Plan after Del: McGill - Biological, Biomedical, Life Sciences
De La Salle is a place that I will forever be indebted to. It taught me how to exceed my own expectations of myself and do so with a kind, persistent, and curious mind. At Del, I immersed myself in everything I could, and if I could go back, I would do so much more. The sports I did shaped my time here: 8 teams, 3 seasons, countless memories. The trust my teammates had for each other, fuelled by their unbridled love and belief, allowed success and growth to be the cornerstones of the teams I had the privilege of leading. Del found ways to highlight my talents and challenge me daily. And when I least expected it handed me a new sport which changed my life and one I hope to pursue at a university-level this fall. Here, surrounded by people so dedicated to your growth, I feel as though I blossomed inside and outside the classroom through inspiring lectures and uplifting teachers. I could not feel more ready to take what I know and continue to learn what I don't in the coming years.
To say Del meant the world to me, would be quite the understatement. It gave me the most authentic friendships and it helped me see and be confident in what I can offer to the world. With a grateful heart, I thank the De La Salle Community for everything it did for me.
Isabella Rossi-
Plan after Del: Postsecondary Plan: Biomedical Engineering, University of Waterloo
"Enter to learn, leave to serve." This motto reflects my experiences at De La Salle as well as the path that I will take afterwards as the school has taught me that our studies are not only a means to personal success, but an avenue to care for and share with others. Over the past four years, I have been surrounded by teachers who inspired and challenged me to be better, and have taught me lessons that I will carry with me forever. I am extremely grateful for my experiences at Del, and I hope to give back to the community that has given me so much.
Sofia D'Onofrio-
Plan after Del: OCAD University – Drawing and Painting
Attending Del for the past 4 years has been one of the most rewarding experiences for me. Del has been the place where I have met some of the dearest people in my life, and where I have formed friendships to last a lifetime. During our final year, our grade as a whole has become closer. I never would have thought it possible that such a large group of people can be so tight-knit and familial. Del truly is a community like no other that I will cherish forever.
Tamara Nabulsi-
Plan after Del: Royal College of Surgeons Ireland, Direct Entry Medicine
From the moment I stepped into De La Salle for the first time, with my mind full of nerves and excitement, I knew this would not just be a school. The people that surrounded me, filled with the same nerves, would not just be my classmates. In the six years I've spent at Del, nothing has remained stagnant. We have collectively been faced with a lot over these years. But the thing that makes Del so special to me is that nobody was ever alone. We faced everything that was thrown at us as a unit rather than alone, and I never felt I lacked support, whether that's from the staff and teachers to my fellow students. To me, Del means a home away from home. With the rigour of the academic curriculum, and the long days spent at sport or club events, Del fosters an environment that brings people together. There's no limit to what I've learned along the way, and the joy that the Del community has brought me.
Ava Carli-
Plan after Del: I will be attending the University of Waterloo for biomedical science.
From the ages of 12-18 being a Del student was my whole identity. My peers and I grew up together and I would not trade those experiences for the world. A special part of my Del experience was being part of the Varsity girl's hockey team from grades 7 to 12. It was a great way for me to make friends in different grades and it gave me a chance to represent the school in a positive way. Of the five seasons that I played on the team, three of them were seasons where we won our division. Us winning back-to-back championships when I had just started at Del was just the cherry on top of being part of such a great team with amazing coaches. I grew up as a member of this team, going from being the youngest to becoming an assistant captain in my final season. Our win this past season was surreal and will allow me to have the fondest memories when looking back on my grade 12 year. It is so bittersweet to leave the place that I have known as my home for the past 6 years, however, I am confident that Del has given me to tools I need to succeed in my next chapter of life.
Cara Loganadhan-
Plan after Del: I am headed to Manhattan College for their Business Honours Program.
Del to me since fifth grade has always meant family. To the first day of grade five when all 24 of us sat at one of the big tables at lunch, so no one would have to sit alone. Each and every one of my classmates became my family. We understand each other in the way a Del student only could, the stresses during exam week, the excitement of Sharelife Day, Terry Fox Day, and Founder's day, the wishes for long assemblies, and the anticipation of Brother wearing white. he clubs I got involved in just made the family evolve beyond my grade. In grade five, I joined Theatre De La Salle, and it forever changed my life. Through each production I became more and more confident in myself. While I will not be pursuing theatre in the next coming years, the confidence and public speaking skills I acquired were life changing. In fifth grade I was mentored by all of the older students in the play, cheering me on at auditions, helping me out with costumes, and just making me feel welcomed. As I reached the older grades, I made sure I treated my younger castmates with the same amount of love and respect. All of the students here understand the experience at Del, and we want to make each other's the smoothest and most enjoyable one, so we never fail to help one another out. Throughout the years, there were a couple main teachers that have forever changed me for the better. To Mr. Luchka, who has given me a constant safe space within the auditorium where I can grow and express myself. Ms. Kim, who was the first person who ever talked to me about important social justice issues going on in the world, she sparked this drive in me to advocate as well as encouraged me that I was not too young to start. Mr. Cherny, who, after years of disliking essays, made me fall in love with writing again. Mr. Sourial, who made me not be embarrassed for my love of math. Ms. Katz, who encouraged me and believed in me when I was struggling during the first months of economics, and now I'm considering majoring in it. The Del community will always be my family which makes it so hard to leave, but I know I am more than ready for the next chapter in my life.
Alexandra Gilbert-
Plan after Del: General Engineering, Queens University
Honestly what didn't Del mean to me? Over the past year I've probably spent more time at Del than at home, from early morning sport practices to late nights in the student council room, I can't imagine going to another school. I've been lucky enough to make incredible friends, and it's a privilege when the people around you are not just friends but also people you can also look up to. Del has been a place where I've been surrounded by teachers and staff who have been role models for me and I look forward to coming back as an alumni!
Maritza Sainvil-
Plan after Del: In university I will be studying Social Sciences at the University of Toronto Mississauga campus in hopes of becoming a Family Lawyer in the near future.
Being at Del meant more to me than just academic success, but also achieving skills that would aid in my journey beyond the school gates. Throughout my four years at the College, I have meant a number of incredible teachers and participated in clubs and teams that helped to broaden my social skills. A memory that particularly stood out to me when asked this question was learning how to skate on ice which eventually progressed to being able to play hockey as part of a short, 5 week long unit of my grade 9 Phys- Ed class. I was only able to achieve this with the support of my peers and teacher, since I found skating very intimidating prior to then. Furthermore, I've had a number of great teachers at Del, but Ms. Kim will forever be the highlight of my Del experience. Her passion and enthusiasm to teach brings enlightenment to her classroom as she incorporates her own personal stories and experiences into her lessons. I found this most helpful during lessons that I found more difficult to understand by using humor as a tool to express the correlation between complex ideas.